over the weekend a few of my favorite labels (shipley & halmos, rag & bone, band of outsiders, robert geller) showed their stuff in nyc.



shipley & halmos



sam shipley and jeff halmos, as most of you know, are my favorite designers. i have a lot of their shit. probably too much. i was a little disappointed with their latest collection. it had a different aesthetic that i couldn't quite grasp. now, don't get me wrong, i was still digging on a lot of their looks. hell, i'm sure i will end up with half of the shit in my closet come next fall. maybe when the pieces actually hit the racks i will change my mind? here are a few of my favorite looks... (i still say they should have won this year's 'best new menswear designer!!!)






band of outsiders



i get a lot of shit for liking this brand. it's hella expensive for the simplicity but it's the fit that gets me! i am a small guy so finding shit to fit me is not an easy task. most of the stuff i buy gets altered and it's not cheap. i can buy shirt off the rack. the fall stuff is the typical BoO look. a little bit of thom browne mixed in too; with the patterns and all. i want those sperry's!!!! someone buy me some. pretty please!?!?!?






robert geller



ok, any designer that makes clothes for vampires is ok in my book! geller's stuff is amazing. i love the dark tones of pieces. i hate vests but he styled them so well down the runway. hell, i might even wear one now...nah. it was just a thought. he elegantly threw in leather here and there and made it look good. i guess if my guys from shipley and halmos had to lose, it would be to this guy.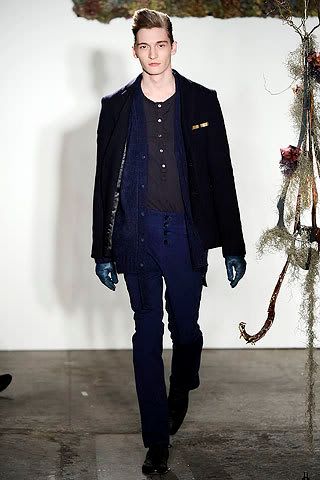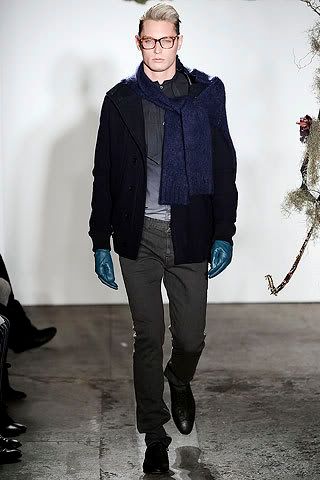 sorry for so many fashion blogs lately. it's fashion week, and well, i like clothes. just wait until baseball starts up. you will know everything you ever wanted to know about the red sox!!!!